ICITM 2021
Virtual Conference // March 26-28, 2021
The 10TH International Conference on Industrial Technology and Management was scheduled to be held in University of Cambridge, Cambridge, United Kingdom on the 26, 27 and 28th of March 2021. But because of the COVID-19 a pandemic, ICITM 2021 was converted to full virtual meeting. All the participants attended the conference via Zoom.
All the accepted papers were included into ICITM 2021 Conference Proceedings which will be published by CPS and submitted to Xplore.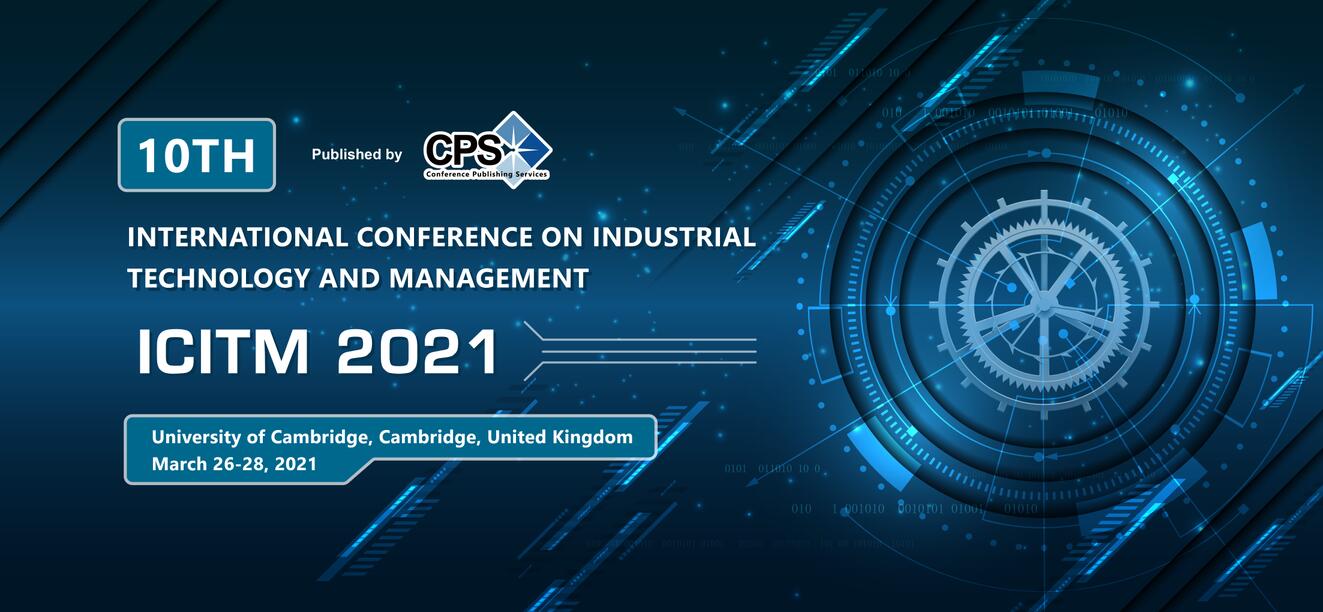 | | | | | |
| --- | --- | --- | --- | --- |
| | | | | |
| Rajiv Sabherwal, IEEE Fellow | | Ezendu Ariwa | | Eric Sax |
| | | | | |
| Emmanuel Fragniere | | Morning Sessions | | Coffee Break Time |
| | | | | |
| | | | | |
| | | | | |
| | | | | |
| | | | | |
| | | | | |

Excellent Oral Presentation Winner

IoT based Realtime Automatic Headlight Dimmer System
Authors: Kanika Gandhi, Karanpartap Singh Aulakh, Gurpreet Singh Kharoud, Jobanpreet Singh Thind and Seemu Sharma
Presenter: Kanika Gandhi, B.E. (CSE Student), Computer Science and Engineering Department, Thapar Institute of Engineering and Technology, India

A Maturity Model for Digital Twin Implementations in the Commercial Aerospace OEM Industry
Authors: Francisco Gomez Medina, Annika Wollermann Umpierrez, Veronica Martinez and Hansjörg Fromm
Presenter: Francisco Gomez Medina, University of Cambridge

The effect of action learning on team cohesion: the mediating role of power distance perception
Authors: Wei Li, Zhefei Mao, Qiwei Li and Jie Zhou
Presenter: Wei Li, Institute of Psychology, Chinese Academy of Sciences

Place Identity and Local Cooperative Behaviors: the Moderating Role of Organizational Identity
Authors: Qiang Zhang, Qifan Jia and Jie Zhou
Presenters: Qiang Zhang, Institute of Psychology, Chinese Academy of Sciences; Qifan Jia, Institute of Psychology, Chinese Academy of Sciences